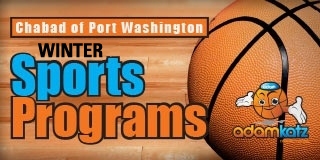 TIGER SPORTS PROGRAMS — YOUTH BASKETBALL
Boys & Girls Basketball programs at the Chabad of Port Washington Gym.
• Girls Fall Programs on Sunday afternoons.
• Boys Fall Programs on Mondays after school.

BOYS SECOND GRADE BASKETBALL LEAGUE
Enter your team in the Boys 2nd Grade League at the Chabad of Port
Washington Gym. Full court games under administration by Island Garden
Basketball. Begins in early November, 2019. First Eight teams will be entered.
14 weeks season. Games Sunday afternoons.

BOYS & GIRLS BASKETBALL FALL CLINICS & TRAINING
• All skill levels – Chabad of Port Washington Gym
• Programs begin after Labor Day
• Boy's programs on Monday afternoons after school will be directed by 2019
Northeast AAU Coach of the Year, Chris Diasparra of Crown Basketball.
• Girl's programs on Sunday afternoons will be directed by Coach Amanda
Kelly, former NCAA scholarship player and Island Garden trainer.

REGISTRATION & PROGRAM DETAILS: